News
Cheers to the New Year!

As we usher in 2021, we are excited to kick off a robust seminar series, begin new partnerships with other institutions and programs, and support our members and MSK community with their research. 

We continuously seek to better understand how to serve you. As such, we are preparing the CCMBM annual member survey in preparation for our annual NIH NIAMS progress report. In advance, we thank you for your feedback. It is crucial for shaping future CCMBM services and programs that will benefit you and your research.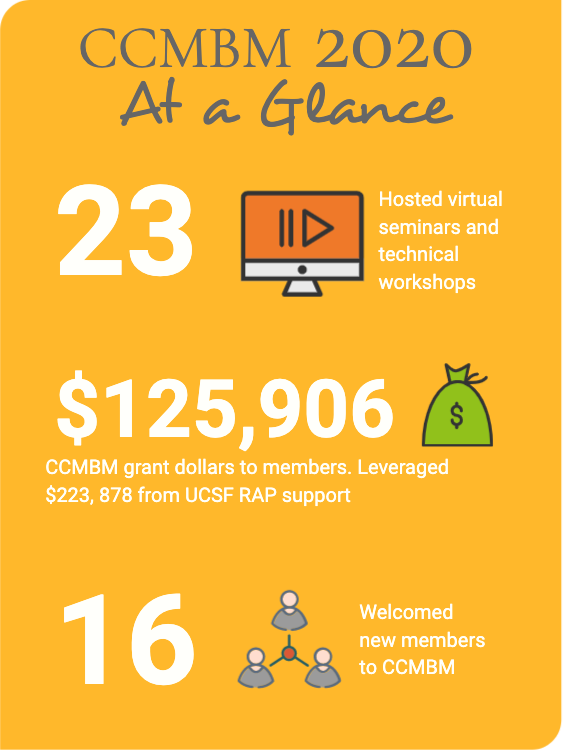 CCMBM 2021 Seminar Series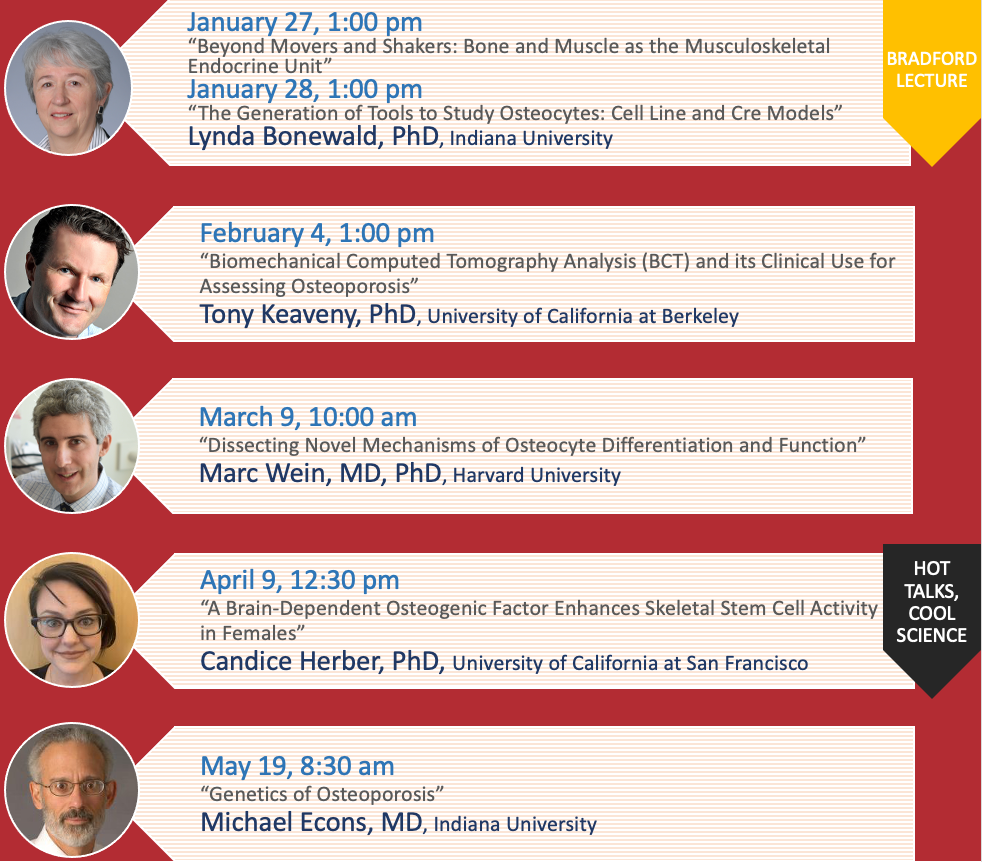 We are delighted to partner with Harvard University's Center for Skeletal Research and the various UCSF departments and programs to bring this year's CCMBM Seminar Series.
​Contact Daniel Davis if you would like us to invite potential speakers for this coming summer and fall.
In Vivo MicroCT Imaging Moves to Parnassus Heights
The development of preclinical scanners has allowed us to perform microCT imaging on live, anesthetized animals. As a valuable strategy for longitudinal analysis of gross skeletal development and bone microarchitecture changes over a time period of weeks or months, this technology is used to identify skeletal changes in response to gene modification, pharmacological or biomechanical interventions, and musculoskeletal injury or cancer. Notable advantages of in vivo scanning are the reduction of animals needed for a study and can offer important information about transient or temporal physiological effects that are not observed at the endpoint.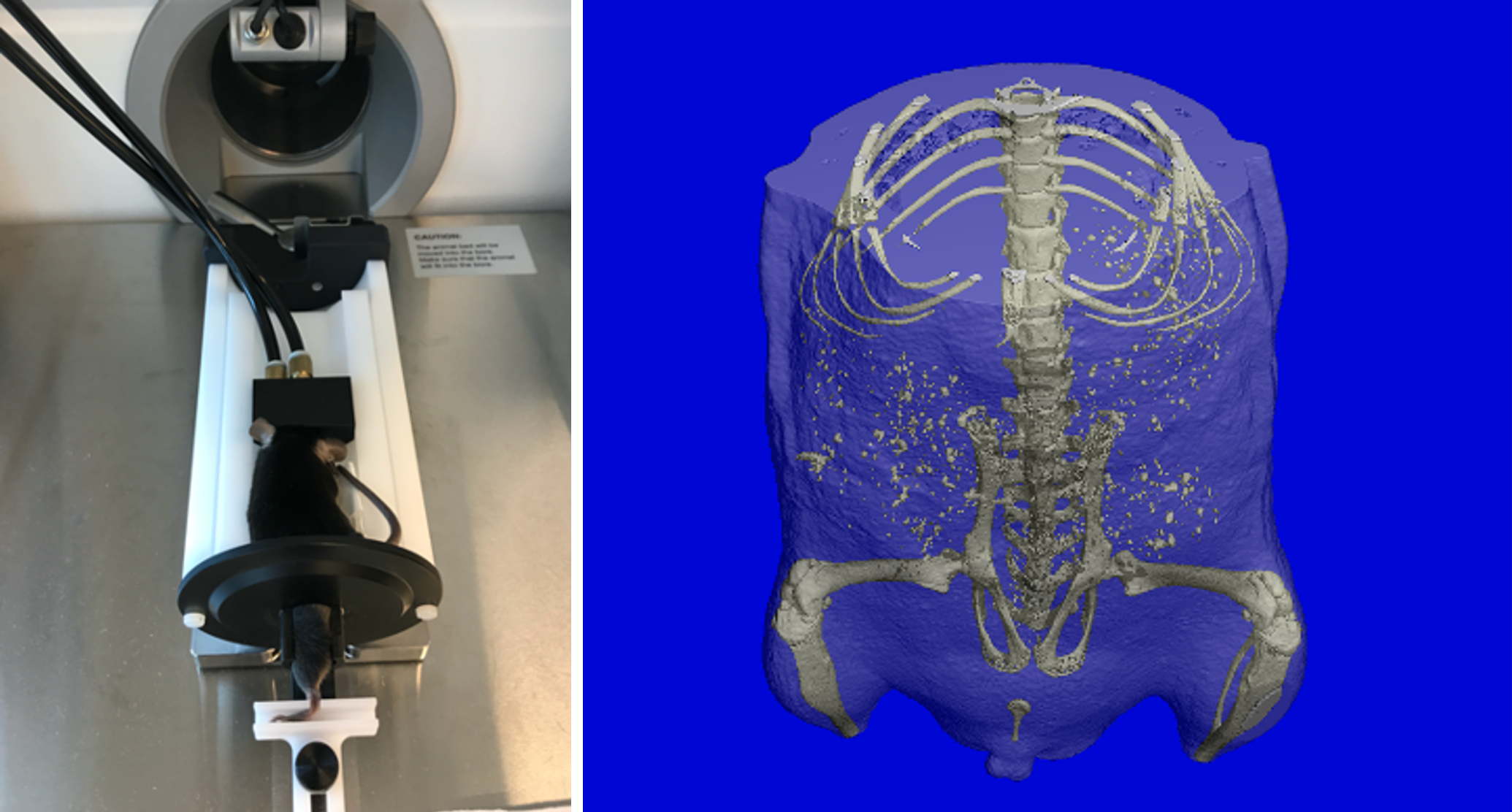 This equipment will be online and ready for use on the Parnassus Campus later in Spring 2021; scans can be performed on mice inside LARC's PSB barrier facility. Please contact Nick Szeto, SBB Core Manager, for more information.
Congratulations to CCMBM Members on their Awards
We would like to congratulate the following members on their awards!

PILOT/FEASIBILITY GRANT
Victor Cheuy, PhD, Departments of Physical Therapy and Rehabilitation Science & Radiology and Biomedical Imaging, Electromechanical Dynamometer for Clinical Research of Skeletal Muscle Function (Funded by Academic Senate)
---
CCMBM JUNIOR INVESTIGATOR RESEARCH GRANT
Neha Dole, PhD, Professional Assistant Researcher, Department of Orthopaedic Surgery, Understanding the Role of Sirt1 in Obesity-induced Metabolic Dysfunction of Osteocytes
 
Karin Wu, MD, Research Fellow, Department of Medicine - Endocrinology & Metabolism, The Role of Prebiotic-Induced Microbiome Alteration in Calcium Absorption and Bone Turnover After Gastric Bypass
---
CCMBM JUNIOR INVESTIGATOR SOFTWARE ASSISTANCE GRANT
Daniel Clark, PhD, Postdoctoral Scholar, Department of Orthopaedic Surgery
Eileen Koh, MD, Research Fellow, Department of Medicine - Endocrinology & Metabolism
Heather Richbourg, PhD, Postdoctoral Scholar, Department of Orthopaedic Surgery
Jinsook Suh, PhD, Postdoctoral Scholar, Department of Orofacial Sciences
Zuzana Vavrusova, Graduate Student, Department of Orthopaedic Surgery
Jihee Yoon, Graduate Student, Department of Orthopaedic Surgery
 
CCMBM's First Virtual Retreat Convened Scientists from Multiple Institutions
Congratulations to CCMBM Members on their Awards
Dr. Tamara Alliston Steps into Her New Role as CCMBM Center Director
UCSF CCMBM Earns Another 5 Years of P30 Funding
Bradford Lectureship Rescheduled