Unleashing Your Inner Athlete: Accelerating MSK Healting through Discovery
NIH P30 Core Center for Musculoskeletal Biology and Medicine (CCMBM) hosted a special two-day scientific retreat along with the Department of Orthopaedic Surgery at UCSF's Mission Bay campus during April 9-10, 2019.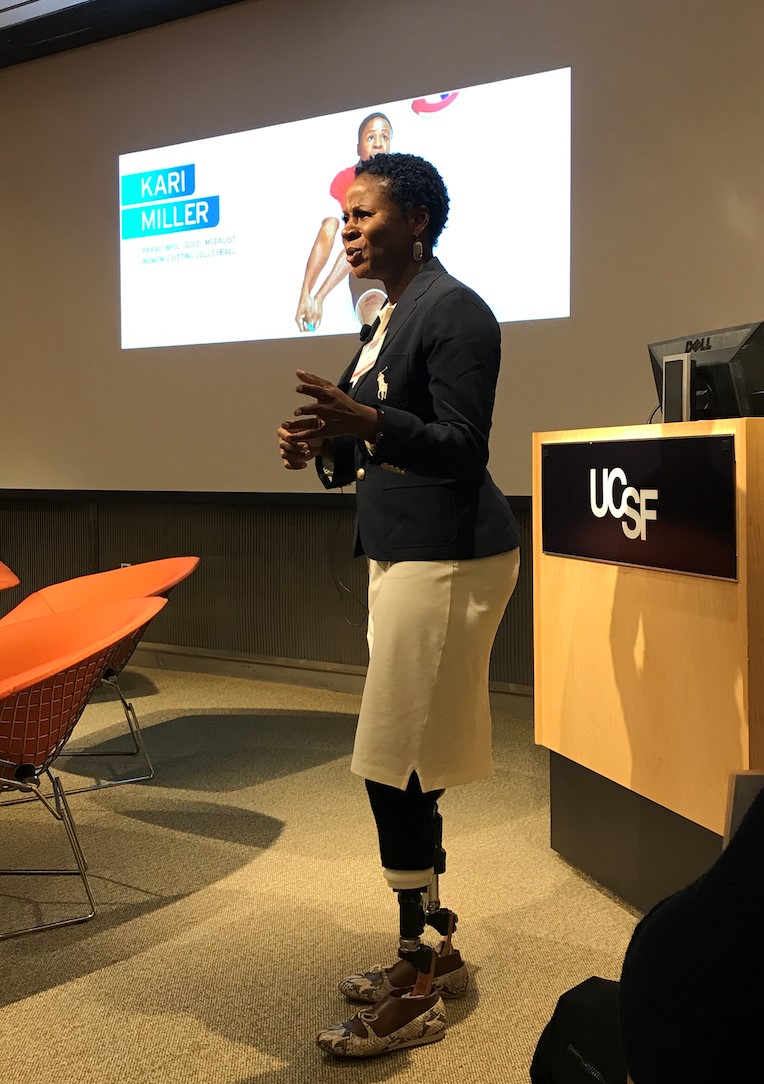 We welcomed Paralympic Volleyball Gold Medalist Kari Miller, who gave an inspiring keynote on her life experiences as a U.S. Army veteran, double amputee, and competitive athlete. She also participated in a panel discussion with Julia Nichols, PhD (2012 Olympic Rowing), Richard O'Donnell, MD (Professor of Clinical Orthopaedic Surgery and Chief of the Orthopaedic Oncology Service), and Rich Souza, PhD, PT (Vice Chair for Research and Professor in the UCSF Department of Physical Therapy and Rehabilitation Science). The first day concluded with talks & posters by trainees, and a networking reception.
The second day of the retreat featured keynote lectures by Richard O'Donnell, MD; Todd McDevitt, PhD; and Corey Neu, PhD; along with 17 session speakers and discussion leaders, as well as a poster session. This year, the CCMBM is proud to include Corey Neu, PhD, Professor of Mechanical Engineering from the University of Colorado as the Inaugural Bradford Distinguished Lecturer. Over 140 participants attended, including CCMBM members, 23 UCSF departments represented in multiple schools, and ten institutions (UC San Francisco, UC Berkeley, UC Davis, and Stanford University, San Francisco VAMC, CPMC, Gladstone Institutes, University of Colorado, Redwood High School, and University of Melbourne) that brought musculoskeletal researchers, clinicians, and trainees.
In each session, scientists discussed their efforts to finding solutions to tackle musculoskeletal problems, from engineered stem-cells to systemic bone loss. Whether addressing these questions from a basic, translational, or clinical perspective, the CCMBM provided Core resources and pilot grant funding to support this work. In this way, the CCMBM aims to strengthen the resources and community of new and established investigators to improve musculoskeletal health.
Congratulations to the Slam Talk and Poster Winners!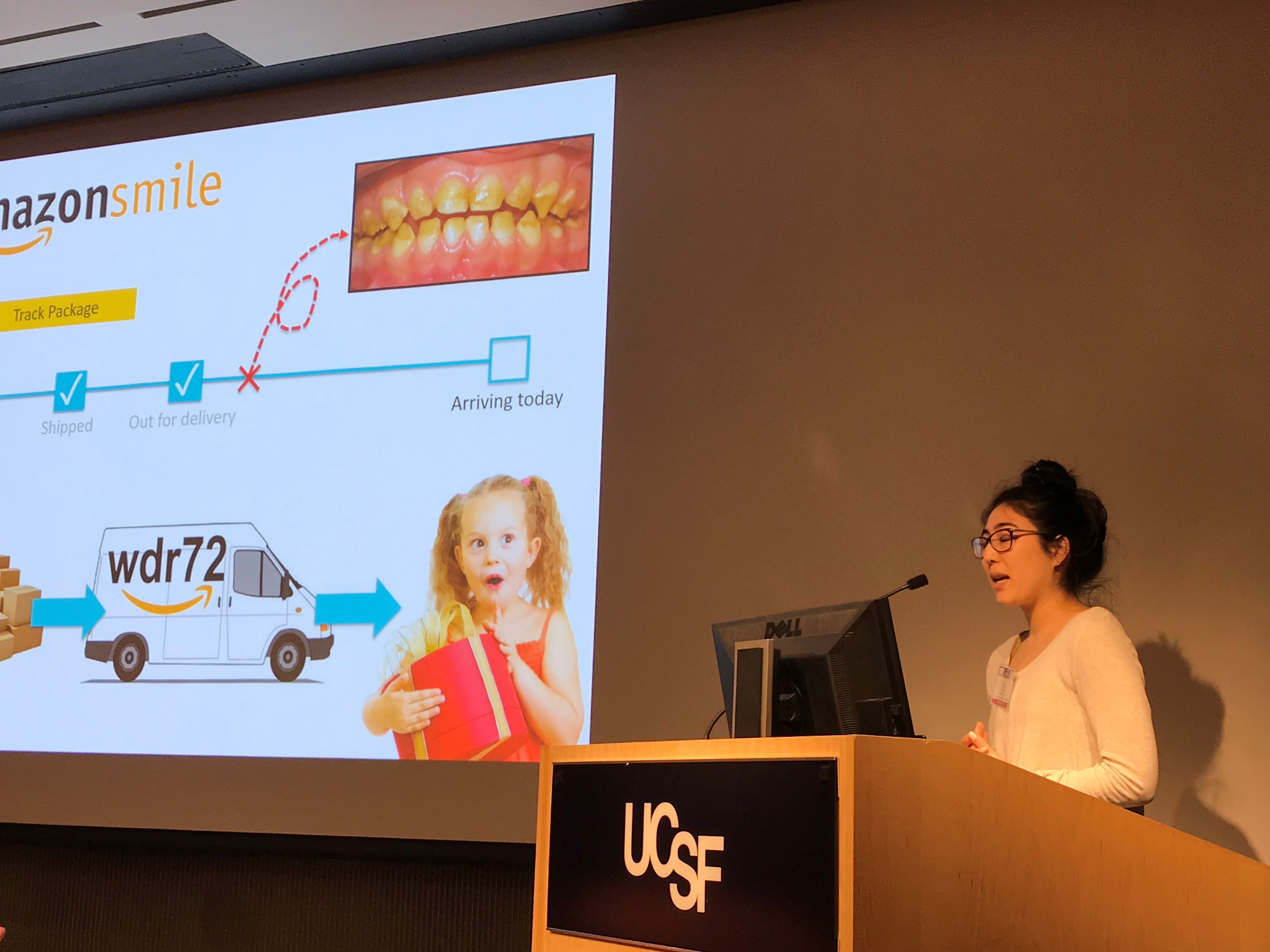 Best Slam Talk – Kei Katsura. Slam Talk Title: 

Teeth Come in Little Packages

Best Postdoc Poster – Spenser Smith, PhD. Poster Title: 

The Role of TGFB Signaling in Neural Crest-Mediated Jaw Bone Remodeling

Second Place Postdoc Poster – Benjamin Osipov, PhD. Poster Title: 

Determining the Effect of Osteocyte Dysfunction on Systemic Bone Loss after Fracture Using Bcl-2 Transgenic Mice

Best Graduate Student Poster – Devante Horne. Poster Title: 

Development of a Custom LIPUS System and Demonstration of LIPUS-Induced Increase in Collagen Production in Intervertebral Disc Cells

Second Place Grad Student Poster – Courtney Mazur. Poster Title: 

Osteocytic MMP13 Regulates Perilacunar/Canalicular Remodeling, Bone Quality, and Joint Disease

  

   
The CCMBM would like to thank event sponsors: UCSF Department of Orthopaedic Surgery, the Endocrine Unit at SF-VAMC, UCSF Dental School, UCSF Department of Physical Therapy and Rehabilitation Science, UCSF Department of Radiology and Biomedical Imaging, the Center for Disruptive Musculoskeletal Innovations (CDMI), and the Anti Aging Rejuvenation Initiative. A special acknowledgement to David S. Bradford, MD, Professor of Orthopedic Surgery, director of spine surgery and Chair Emeritus at UCSF, for establishing the Bradford Lectureship to honor those who have contributed significantly to MSK research. Kudos to the Scientific Retreat Committee: Tamara Alliston, PhD, and Galateia Kazakia, PhD, Event Co-Chairs; Jiun Chiun Chang, PhD; Roland Krug, PhD; Pui Yee Law; Jeffrey Lotz, PhD; and Richard Souza, PhD, PT.
---
Congratulations to the 2019 CCMBM grantees
PILOT/FEASIBILITY (FUNDER)

Judith Ashouri, MD, Assistant Professor, Department of Medicine, In depth characterization of RA synovial T cells (Academic Senate)

Dennis Black, PhD, Professor, Department of  Epidemiology & Biostatistics, Atypical Femur Fracture (AFF): Developing a predictive tool for AFF risk and establishing AFF impact on morbidity and mortality (CCMBM)
 
Andrew Brack, PhD, Associate Professor, Department of Orthopaedic Surgery, Antibody-directed inhibition of GDF11 to enhance aged skeletal muscle repair (Academic Senate)
 
Victor Cheuy, PhD, Assistant Professor, Department of Physical Therapy & Rehab Science, A Musculoskeletal and Biomechanical Analysis of Diabetic, Neuropathic Foot Deformity (CTSI)
 
Tejal Desai, PhD, Professor, Department of Bioengineering and Therapeutic Sciences, Local Delivery of Nerve Growth Factor via PEGDMA Microrods for Accelerated Bone Fracture Repair (Academic Senate)
 
Brian Feeley, MD, Professor, Department of Orthopaedic Surgery, Human Fibroadipoprogenitor (FAP) stem cells in rotator cuff disease: functional assessment of regenerative potential (REAC)
TRAVEL AWARD PROGRAM
Koren Roach, PhD - Osteoarthritis Research Society International (OARSI) World Congress on Osteoarthritis
Spenser Smith, PhD - International Association for Dental Research (IADR/AADR/CADR) General Session and Exhibition
Po-Hung Wu, PhD -  International Society for Magnetic Resonance in Medicine (ISMRM 2019) Annual Meeting
---
CCMBM 2018 Member Survey Results
Thank you to all the CCMBM membership for taking the time to complete our survey, which was critical to the CCMBM P30 application requesting another 5-years of funding from NIH. We had an overwelming 91% response rate; our average response rate has been 30%. This shows the CCMBM member's motivation and commitment to its goals and enthusiasm to see the Center continue in the future. CCMBM and membership highlights are as follows:
CCMBM Membership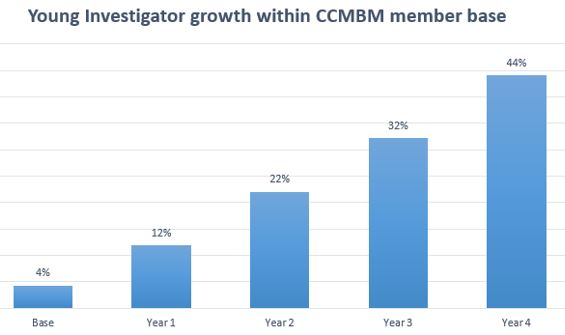 Summary of the Grants Supported from the CCMBM Community

CCMBM Activities Members Want Continued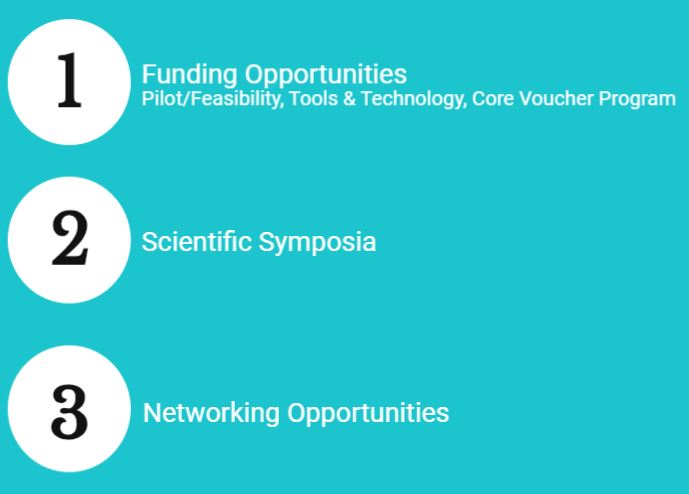 Interest in CCMBM New Services/Tools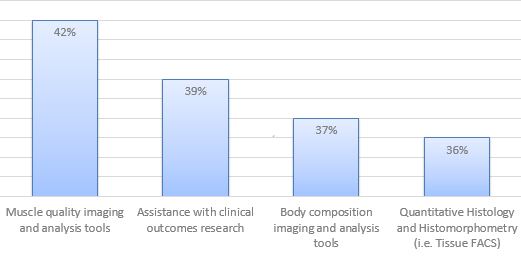 ---
Congratulations to the 2018 CCMBM grantees
Beyond Boundaries: Translating Discoveries to Promote an Active and Healthy Lifestyle
Members Leveraged Center's Funds
Congratulations to CCMBM Pilot Grantees
New awardee recruited into the skeletal biology field