2022 Orthopaedic Surgery/CCMBM Scientific Retreat - 
The Past, Present, and Future of Aging: Perspectives on Building Longer Healthier Lives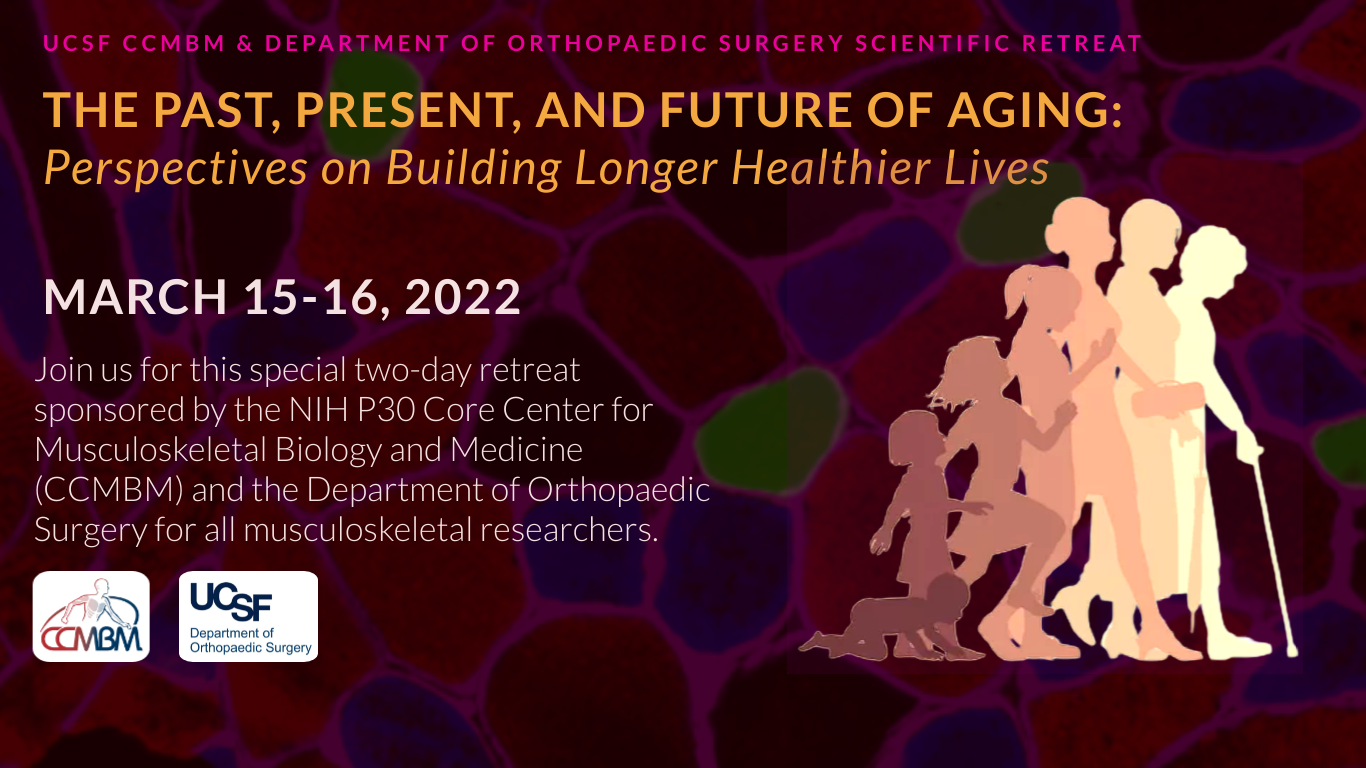 This scientific event brings together researchers from the Bay Area and beyond to discuss cutting edge research that aims to transform human health by improving musculoskeletal function across the lifespan. Researchers from the biological, engineering, imaging, and epidemiologic sciences will discuss advances in soft and mineralized skeletal tissues and muscle in health and disease.
---
Please join us for this special two-day retreat sponsored by the NIH P30 Core Center for Musculoskeletal Biology and Medicine (CCMBM) and the Department of Orthopaedic Surgery for all musculoskeletal researchers. We will convene in-person for this year's event at UCSF's Mission Bay Campus, Genentech Hall, 600 16th St, San Francisco, CA 94158. Remote participation is available. Registration is required to attend.

EVENT AGENDA
DAY 1 - TUESDAY, MARCH 15TH, 6:00 - 8:00 PM
Open to the general community.
Welcome Gathering with speakers, panelists, MSK Leaders, UCSF Leaders, and invited guests
Event Program with Keynote Speaker Steven Petrow, Columnist and Author with conversation partner Coleen Sabatini, MD, Orthopaedic Surgeon and Professor at UCSF; slam talk competition.
Poster Session and Reception
Graduate students, postdocs, and other trainees: Opportunities to present your research via a slam talk on Day 1, and/or posters on Day 2 are available here.
What is it?
The Core Center for Musculoskeletal Biology and Medicine (CCMBM) Young Investigator Slam Competition at UCSF challenges trainees to present a compelling presentation of their research in three minutes or less, using language that not only their peers but also non-specialists will understand. The purpose of this Slam is meant to incentivize trainees to clarify their ideas and to help others understand and appreciate the significance of their work.

Live Event
The CCMBM Young Investigator Slam Competition will be an in-person event that will take place on Tuesday, March 15, 2022, 7:00 PM, at the Genentech Auditorium (Mission Bay Campus). This event is a celebration not only of the finalists and competition winners, but also to highlight trainees at UCSF and of scientific enquiry.
 
Prizes
First Prize (Postdoctoral Scholar/Fellow/Resident): $150 gift card
First Prize (Graduate Student): $150 gift card

Judges
A panel of screening judges will review the initial entries, which will be submitted on video. The judges will choose the finalists to compete in the live event. An additional panel of judges will choose the 1st prize winners at the live event. Presentations will be judged based on scientific impact and the quality and clarity of your presentation.
Who can Enter?
As of March 15, 2022, you must be a current graduate student in a PhD program, Postdoctoral scholar/fellow, or Resident at UCSF. UCSF alumni are not eligible. Your presentation must be based on your own, original research. Trainees who entered the contest, or who were finalists in previous years ARE eligible to enter again. However, the winner and runner-up of previous contests are not eligible to enter again.
Rules for Live Presentations
Your presentation must be based on your own, original research.  

You are allowed to use ONE slide to accompany your presentation. Your slide does not need to have your name on it. Your slide should enhance your presentation and not be the focus of your talk.

No transitions or animations are allowed on the slide.

No additional media, such as sound or video clips are permitted.

No props (eg costumes, musical instruments, laboratory equipment) are permitted.

Presentations will be in spoken word (not sung or otherwise performed).

Presentations are limited to three minutes and must be presented live on March 15.
How do I Enter?
Step 1: Review the contest rules, guidelines, judging criteria, eligibility, and other information in this FAQ. Check out some resources to help you craft an accessible 3-minute talk. Also, watch some of the past winning talks from live competitions.
Step 2: Sign up! You will be invited to upload a video of your 3- minute talk.
Step 3: Submit a video of your 3-minute talk by February 15, 2022. Upload link will be sent to you as a finalist of the slam competition.
When will I know if I'm chosen as a finalist?
Four (4) finalists will be notified on February 25, 2022.
DAY 2 - WEDNESDAY, MARCH 16TH, 8:00 AM - 5:00 PM
Open to the scientific community.
BREAKFAST
WELCOME REMARKS
Tamara Alliston, PhD, Orthopaedic Surgery & CCMBM Center Director, UCSF
Galateia Kazakia, PhD, Radiology and Biomedical Imaging & Event Co-Chair, UCSF
BRADFORD DISTINGUISHED LECTURESHIP/KEYNOTE SPEAKER - Douglas P. Kiel, MD, MPH
Director, Musculoskeletal Research Center and Senior Scientist, Hinda and Arthur Marcus Institute for Aging Research
Professor of Medicine, Harvard Medical School, Beth Israel Deaconess Medical Center
SESSION I – PAST OF AGING
SESSION II – PRESENT OF AGING
POSTER SESSION AND NETWORKING LUNCH
Graduate students, postdocs, and other trainees may present your research via poster presentation. 
Poster Presentation Guidelines
SESSION III – FUTURE OF AGING
Introduction of Keynote by Jeffrey Lotz, PhD, Orthopaedic Surgery, UCSF
KEYNOTE SPEAKER - James N. Weinstien, DO, MS
Senior Vice President, Microsoft Healthcare
CLOSING REMARKS & RECEPTION
Closing Remarks with Slam Talk & Poster Awards by Thomas Vail, MD, Chair of Department of Orthopaedic Surgery, UCSF