CCMBM Events
CCMBM Data Analysis Coaching Session
Get data analysis help from a biostatistical expert, who will provide big-picture advice that can shape questions for investigators to ask in a more detailed CTSI/CCMBM consultation. CCMBM members are eligible to receive up to 6 hours of free CTSI consultation time. Sign up to present your grant application biostatistical plan for live feedback, or join to learn from the session.  
SIGN UP​​​​
August 14 - CCMBM Bone Investigator Group (BIG)
Investigators present their clinical research grants or data and receive feedback and informal consultation from peers and senior investigators. Contact Lucy Wu, EBSD Core Program Manager, to participate or to ask for more details.
August 17 - CCMBM Seminar Series - Cliff Rosen, MD
Chasing a Bone Density Gene: A Zero-Sum Game
Featuring Cliff Rosen, MD, Professor of Medicine at Tufts University School of Medicine. Dr. Rosen is a clinical endocrinologist and basic bone biologist. His work encompasses studies of mesenchymal stem cell fate, bone and fat in the marrow as well as clinical trials with PTH and beta blockers. He is on NIA Council, and previously served on NIAMS council. He is past president of ASBMR and currently a senior editor at eLife and Associate Editor at New England Journal of Medicine.
 
WHEN: August 17, 1:00pm-2:00pm (PDT)/ 4:00-5:00pm (EDT)
RSVP to receive zoom details

REGISTER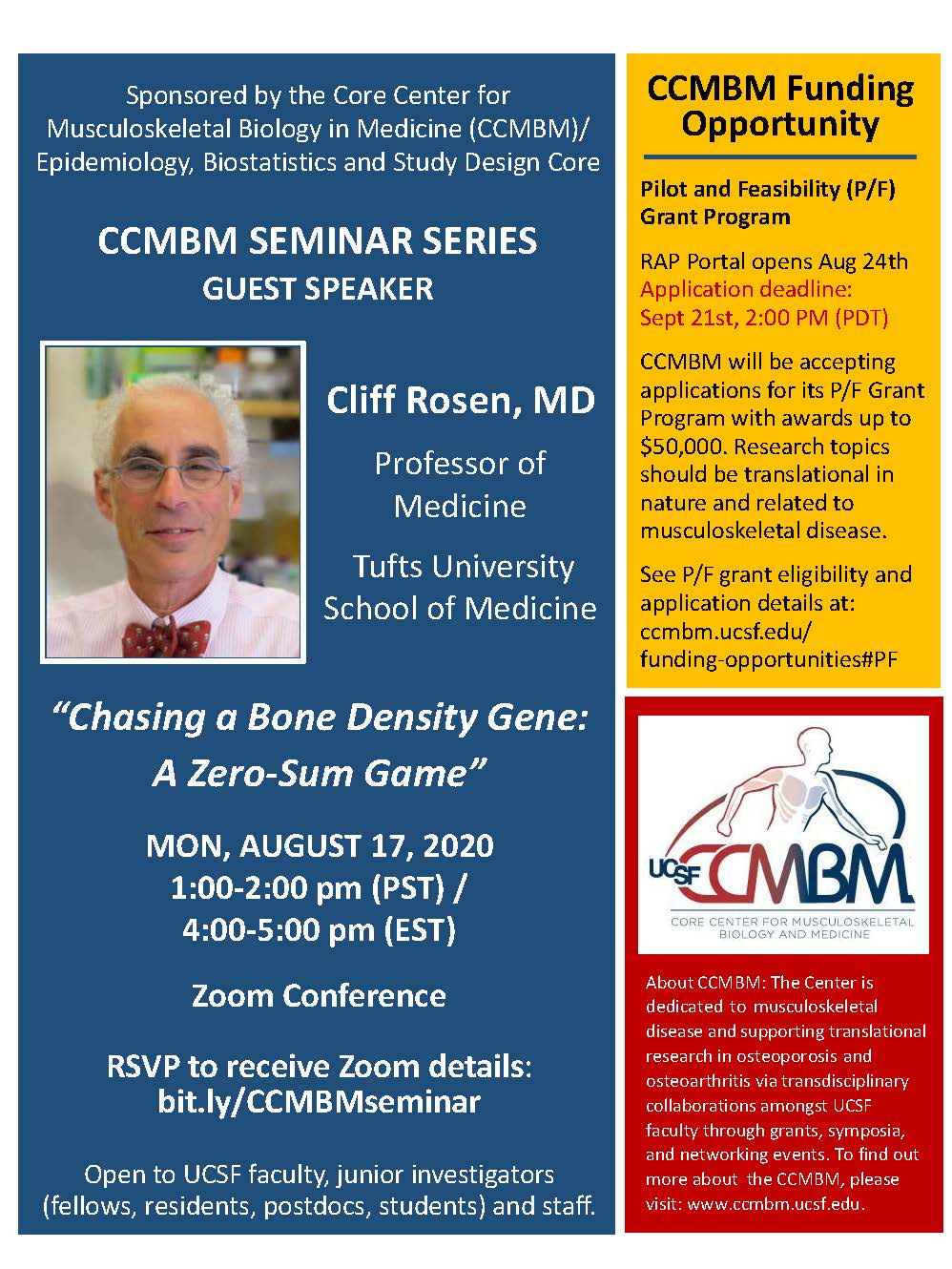 Partner Events                                      
---
July 22, 11:00am-12:00pm; Virtual Event
REACH PFB Core Workshop "Novel motion capture tools for assessing biomechanics and physical function from both inside the clinic and the real world"
REGISTER
Hosted by the Core Center for Patient-centric, Mechanistic Phenotyping in Chronic Low Back Pain (REACH)
---
August 26, 9:00am-12:35pm; Virtual Event
REACH Half Day Symposium "​​​​​​The role of muscles in low back pain" 
REGISTER
Hosted by the Core Center for Patient-centric, Mechanistic Phenotyping in Chronic Low Back Pain (REACH)​
---