Janet Lee, MD, MPH, MAS - Skeletal Effects of Puberty Suppression of Transgender Youth
Janet Lee, MD, MPH, MAS
 
Skeletal Effects of Puberty Suppression of Transgender Youth 
 
Skeletal Effects of Pubertal Suppression in Transgender Youth (SEPSITY) is a 1-year collaborative pilot study investigating bone measures of early pubertal transgender and gender diverse (TGD) youth prior to and during gender-affirming medical therapy with gonadotropin-releasing hormone agonists (GnRHa). Data from Europe have shown that late pubertal and adult transfeminine individuals, in particular, have low BMD prior to and following several years of gender-affirming sex hormones. We have shown that early pubertal TGD youth of both designated sexes at birth also have higher than expected rates of low BMD by DXA and QCT prior to initiation of gender-affirming medical therapy, and that those with low BMD have lower physical activity than those with normal BMD.
From the UCSF Child and Adolescent Gender Center, we are building a cohort of TGD youth initiating gender-affirming medical therapy in early puberty, with plans to continue following these youth into adulthood. Study participants complete standardized assessments of bone mineral density (BMD) and body composition with dual-energy X-ray absorptiometry (DXA), bone microarchitecture with high-resolution peripheral quantitative computed tomography (HR-pQCT), strength measures, anthropometrics, bone turnover markers, vitamin D status, dietary calcium intake, and physical activity. Our pilot data are expected to lead to longer-term intervention studies aiming to mitigate the expected lag in skeletal development during pubertal suppression, and to identify potential areas for intervention. Ultimately, our research will positively contribute to the clinical care of TGD youth. Funding from the CCMBM pilot and feasibility award has allowed us to study and build this important cohort.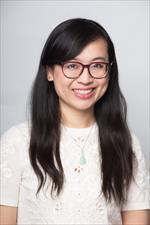 Janet Lee, MD
Assistant Professor, Pediatrics
Research Interests: Transgender health and bone, puberty and bone, puberty suppression and bone, cross hormone therapy and bone.
---
Jeannie Bailey, PhD - The mechanistic pathophysiology associated with paraspinal muscular degeneration and chronic low back pain
Jeannie Bailey, PhD
 
The mechanistic pathophysiology associated with paraspinal muscular degeneration and chronic low back pain
In this pilot study, we will assess the spatial distribution of multifidus fat infiltration and cellular-makeup of muscle biopsies from distinct groups of chronic low back patients to decipher the underlying mechanisms negatively affecting multifidus and its regenerative potential. 
 
Chronic low back pain (CLBP) is the world's leading debilitating condition. The multifaceted and uncertain etiology underlying CLBP makes it notoriously difficult to determine specific diagnoses and effective treatments. The paraspinal muscles, particularly the multifidus (MF), have a uniquely important biomechanical role in stabilizing the lumbar spine and could be an effective target for conservative therapy. However, based on standard MRIs, MF muscle health is not shown to consistently associate with CLBP. MF is likely a critical component modulating the relationship between existing spinal pathology and patient symptoms, but the mechanisms underlying how MF is affected by spinal pathology remains unclear. We propose utilizing advanced MRI to precisely quantify fat infiltration spatial distribution, paired with knowledge of the underlying cellular composition and gene expression from corresponding MF tissue samples to clarify the cellular mechanisms compromising MF muscle quality. We will assess MF muscle quality and regenerative potential from two patient groups: a radicular CLBP group with disc herniation (n=8) and a localized CLBP group with disc pathology (n=8). First, using advanced MRI sequences for fat infiltration, we will distinguish patterns of relative quantity and spatial distribution of fat infiltration within MF between radicular and localized CLBP patient groups. Next, we will collect MF muscle tissue samples and analyze tissue-level MF composition based on presence and distribution of fiber type, fibrosis, fat cells, innervation, and inflammatory biomarkers. This will help decipher mechanisms affecting MF based on the diverse underlying cellular composition. Lastly, we will quantify the number of underlying fibro-adipogenic progenitor stem cells (FAPs) and use gene expression to determine cellular stemness, myogenesis, fibrosis, different adipose tissue types, inflammation, and innervation. This study will provide pilot data for us to pursue funding for a larger study. The goal of this overall work is have a clearer understanding of the pathophysiology of MF muscle degeneration and recovery potential associated with CLBP, which can lead to the development of therapies for muscle regeneration and targeted rehabilitation supporting focused conservative care approaches for managing and alleviating CLBP.
 


Jeannie Bailey, PhD
Assistant Professor, Orthopaedic Surgery

Research interests: Biomechanics and age-related conditions of the lumbar spine and participate in events and leverage collaboration between the departments of Orthopaedic Surgery and Physical Therapy, as well as utilizing Imaging and Epi biostats research cores.